Hindsgavl Castle, located on the scenic Hindsgavl peninsula near the Little Belt strait, is a historical castle with a dramatic history stretching as far back as the 12th century. The hotel entices guests from near and far with its charming atmosphere and unique surroundings. A few years ago, Hindsgavl Castle was facing difficulties in their business. The hotel therefore required modern software solutions in order to improve the guest experience and optimise operations.
A historical location
Hindsgavl Castle is both a historical and modern pearl situated on the scenic Hindsgavl peninsula by the Little Belt strait. The castle boasts many exciting legends, some of which are still told today. Notably, the then King of Denmark's, Frederick VI, stay in 1814 while awaiting the outcome of peace negotiations in Kiel. After the Treaty of Kiel had been signed by his negotiator, King Frederick VI would later add his own name to it at Hindsgavl Castle. This would mark the beginning of a new chapter in Danish-Norwegian relations, as Denmark lost Norway to Sweden, ending a centuries-old union.
Nowadays, the castle functions as a vibrant conference centre with modern hotel and event rooms, where weddings and private parties are hosted, and guests can look forward to a relaxing stay.
"Hindsgavl Castle is not only a place where you can stay but also a destination where you can experience the best of what Denmark has to offer in terms of culture and scenery", says Jeanette Hansen, front desk manager.
During one's stay, Hindsgavl Castle has several unique experiences to offer, such as whale watching with the chance to see the world's smallest whale; a visit to the CLAY Museum of Ceramic Art Denmark, which has the biggest collection of pearls from 235 years of Danish design and industrial history on display; as well as bridgewalking across the Old Little Belt Bridge, allowing for a breathtaking view.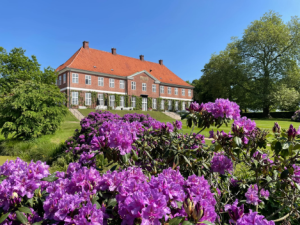 The system change has simplified internal processes
 Previously, Hindsgavl was faced with several challenges when it came to managing their guests, conferences and events. Moreover, manual work and limited capacity control made it difficult to optimise the business' operations and resource management.
In order to tackle these challenges and simultaneously take Hindsgavl Castle to new heights, the hotel has chosen to implement VisBook in combination with BookVisit.
"VisBook has provided us with a capacity control feature which was not at our disposal previously. It has really improved our ability to manage guests and events more effectively", says Jeanette Hansen.
Better use of resources has resulted in a noticeable increase in guest satisfaction. Not only has VisBook helped the hotel elevate the guest experience to a new level, but it has also contributed to enhancing online sales markedly. Additionally, debit processing has vastly improved.
"The guests are happier than ever, and online bookings have increased significantly. Debit processing has become smoother and more effective, which has contributed to improving overall profitability. The increased online sales have also been a decisive factor in strengthening our company's market position", concludes Jeanette.