Along the enchanting west coast of Sweden, we find the old town and health resort 'Lysekil'. Here you can enjoy fresh sea air and idyllic surroundings regardless of the season. At the beach edge is Strandflickorna (the Seaside Girls), an absolute gem of a hotel or a conference destination!
We had the good fortune to look closer into Strandflickorna's business, which was a fun and exciting endeavour. During our first meeting with Bettina Salesjö, one word clearly stood out to us: "Directress". "There are two co-owners and we usually call ourselves directresses. It is contemporary title more appropriate to our historic hotel than the titles of CEO and chairman of the board," says Bettina. Even here the feeling is clear that Bettina and Åsa Nilsson (also a directress) have chosen to go 'all in' towards creating an historic atmosphere. (The title "Directress" is translated from the Swedish word "Direktörska" which is the female version of "Director")

Bettina Salesjö, Directress of Strandflickorna
Three beautiful villas in a historic atmosphere
The business in Lysekil is divided into three distinct parts; 'Havshotellet' (Ocean Hotel), 'Husen vid Havet' (Seaside studios) and 'Strandvillan' (Beach Villa). Each of the components has its own charm and history, giving guests many opportunities for all types of visits.
"We offer a wide range of accommodations and can provide anything from conferences to family holidays, but we are most popular for couples of all ages who want a romantic stay in a historic atmosphere from the early 20th century. We are also popular with groups of friends who want to relax, go shopping and enjoy good food in charming surroundings", says Bettina.
Conference guests can enjoy the quiet and inspiring environments in the hotel, while family guests can stay in the slightly more affordable Strandvillan, where there are amenities for preparing your own food.
Whatever your reason for visiting Strandflickorna, Bettina has a few tips on what not to miss:
"A walk on the nearby granite cliffs should be a priority for you, or even a kayak trip in the enchanting reefs – the trips are set up so that they can be enjoyed all year round. And at the neighboring "Sea House", you can directly experience the marine life that exists in our Scandinavian waters – maybe you will even see a shark swim by!"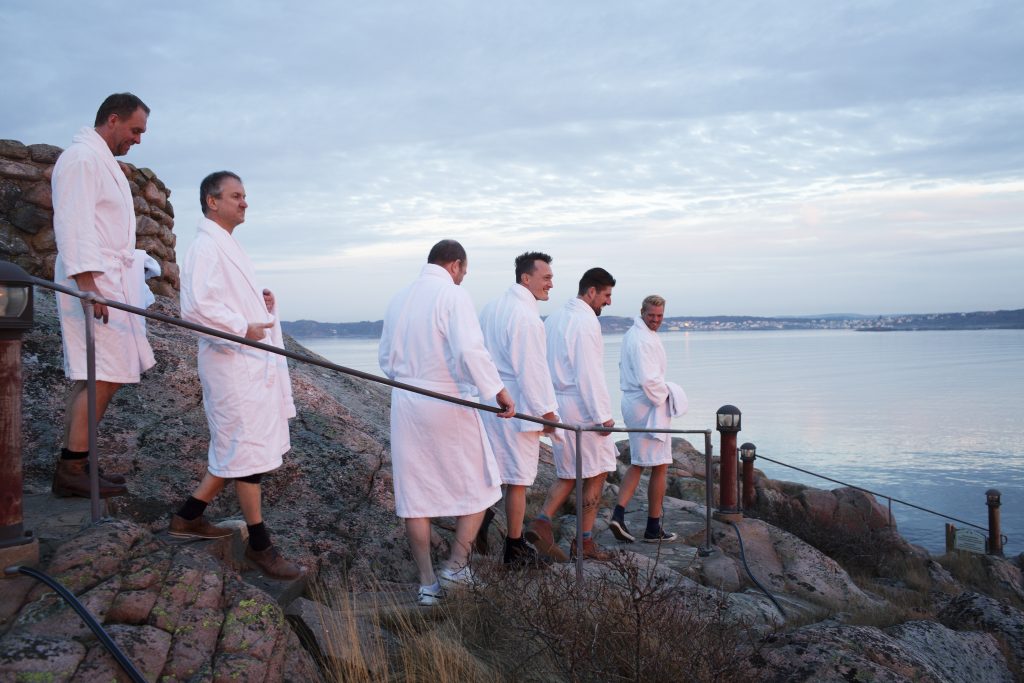 Strandflickorna and VisBook
Since 2015, VisBook has been Strandflickorna's exclusive PMS system, something we are quite proud of. Every hotel is unique and has its own routines, and an optimal hotel system can greatly simplify the daily operations. Over the years, the direct support from VisBook and its integrations with other systems have meant a great deal to Strandflickorna.
"VisBook is incredibly user-friendly and has any of the features you could wish for. Without VisBook, many of our work tasks would be much more cumbersome and time-consuming", says Bettina Salesjö, Director/CEO of Strandflickorna.
We are very happy that Strandflickorna continues to thrive and grow after more than 5 years with us. Thank you for the trust! If you feel like visiting Strandflickorna, you must not miss the beautiful conservatory, where wonderful food and a charming atmosphere from the early 20th century is assured!
https://www.facebook.com/strandflickorna/