Thankfully it seems that the pandemic is finally starting to come to an end. Still, more and more hotels and restaurants are implementing digital solutions. Why? Well, the benefits of digitizing the guest journey extend well beyond the pandemic, and remarkably so for hotel restaurants.
With a restaurant app, you can use digital menus and enable your guests to order and pay online. Guests can simply use their phone cameras to scan a QR code at the table – or in their room – to gain access to the digital menu in the app.
A digital solution in the hotel restaurant doesn't necessarily replace personal service. Instead, the two can be mixed to get the best of both worlds. Guests may for example choose to read the menu digitally, order in person from a waiter, and then scan the receipt to make the payment from within the app.
So, what are the advantages for your hotel business? Here are three strong reasons that illustrate why hotel restaurants can improve their operations by using a restaurant app.
1. Update the menu in real-time
A key benefit of digital menus is that you can change them whenever you want, and the changes are made instantly. You can simply refresh or adapt your menu based on seasonality without having to think about printing new menus.
The ability to update the menu instantly will also simplify daily operations. Has your popular Chicken Caesar salad sold out for the day? No problem, the kitchen can change the menu in real-time. This way, you avoid disappointed guests whilst saving time for the waiting staff to focus on providing even better service.

2. Increase additional sales
When guests can order food and beverages with the click of a button, the services become more accessible. Especially room service. Imagine that a guest is considering ordering a bottle of bubbly, breakfast in bed, or perhaps a midnight snack. The elimination of elements that require more effort, such as calling the kitchen to place the order, reduces the barrier and makes it more likely that the guest will place the order.
A restaurant app also enables you to display offers and send notifications to your guests' phones. This could include offers directed at current guests in your hotel, or previous guests that may want to return.
3. Offer 'no-contact' online ordering
Being able to enjoy a contact-free restaurant visit that is safe from virus transmission will most likely continue to be important. However, there are several other reasons to why guests appreciate online ordering. They can make their choices in their own time, they have full control of what is ordered, and they can follow their order from kitchen to table.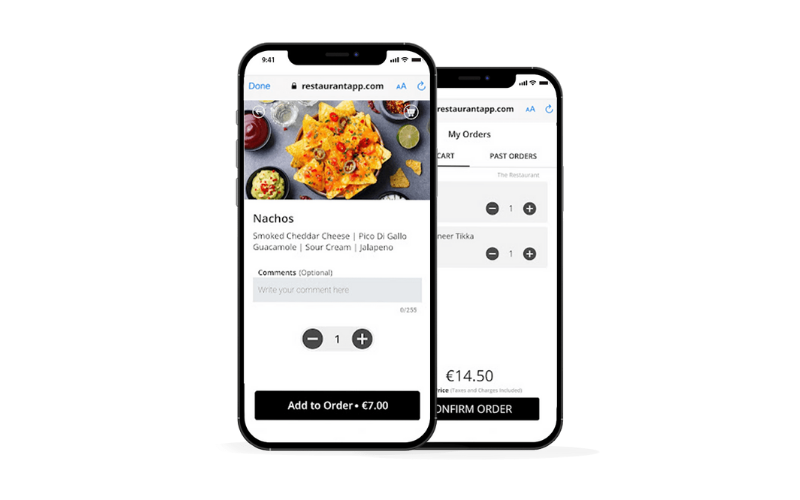 QR codes and guest app in collaboration with Nonius
As part of their all-round solution for a digital guest journey, VisBook's partner Nonius offers a restaurant app for hospitality businesses. The solution is integrated with VisBook's hotel property management system and thus, all F&B orders are automatically shown in the POS.
With Nonius, your restaurant app will be branded and tailored specifically to your hotel business. The same goes for their guest app, which includes mobile check-in, mobile key, room and TV control, chat, and more.
The guest app and the restaurant app are fully integrated. For hotels that use both apps, guests are able to access the restaurant solution directly from the app's home screen. The app is easily accessible through QR code or download.