Marstrand is a popular gem for anyone who loves the sea and especially the Swedish west coast. In the finest part of Marstrand, on the outermost quay edge, you'll find Marstrands Havshotell with its Bohuslän spa. Here, Caroline Eliasson Bredelius, the hotel manager, describes how changing to VisBook has accelerated business development in recent years.
In less than an hour from Gothenburg you'll find Marstrands Havshotell – a relaxing retreat with 144 rooms, a fashionable seafood restaurant – Ottos Kök – and a sea-inspired spa with an assortment of pools, outdoor hot-tubs and a floating sauna – The Heatwave – with beautiful vistas and an upper viewing deck. Furthermore, the hotel offers 18 different conference and event facilities, in addition to a Sports club, training facilities and many other activities for all of our guests. All year round, in any weather, guests from all over the world are welcome here – even though the hotel's main focus is on private and corporate guests from the region of Västra Götaland, Marstrands Havshotell is an international destination.
"Today our restaurant and party room is twice as big as it was 10 years ago, and we have significantly more hotel rooms than when I started working at the hotel. We play a central role in Marstrand's everyday life, not only in the summer, but all year round – where our restaurant is open every day as an extra social destination for the people of Marstrand. Our sports club is also popular, with about 600 members per year and 3-4 sports sessions per day", says Caroline Eliasson Bredelius, hotel manager at Marstrands Havshotell.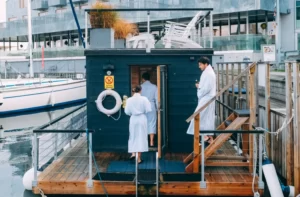 We desire to go above and beyond for our guests
Caroline grew up in Marstrand and has worked in restaurants and hotels throughout her career.
"Our challenge is partly in meeting the competition with the right pricing and highlighting what is unique about us – and also in getting the staff to work well together. We always aspire to deliver what our guests want. We also want to keep track of our guests, how often they are here, if they are recurring, and be able to deliver service that inspires our guests to keep coming back. Here, VisBook is a very important tool", Caroline continues.
VisBook has been extremely adaptable in the hotel's development
In order to meet the needs of our target groups – like couples, groups of friends and conference guests – Marstrands Havshotell has recently expanded its operations in terms of both space and services offered. In connection with this it was clear that a very efficient PMS system was needed.
"Our old system was slow and sub-standard in terms of both support and user-experience. We wanted a simple system that was uncomplicated to learn and master. With VisBook, we got fantastic support, which allowed us to reduce the training time from two weeks to one week. VisBook also has a very good visual experience and we appreciate that it's Windows-based. Today we use it throughout the entire hotel business –for our restaurant, our spa, accommodations, our conference facilities and more. It has stream-lined everything and been incredibly adaptable in our development", Caroline concludes.