Consumers worldwide are becoming increasingly reliant on using their smartphones to navigate through everyday life, taking care of everything from bank errands to ordering food through mobile apps. Thus far, the hospitality industry has been slow to adapt the mobile technology, but the Covid-19 pandemic has boosted the use of digital solutions at hotels and resorts. 
Now more than ever, modern travellers and hotel visitors expect the ability to plan and manage their entire travel experience using their smartphone. To meet this demand, more and more hoteliers are investing in mobile technology. But the benefits extend further – by implementing mobile technology throughout every step of the guest journey, you can enhance your guests' experience whilst also creating new ways to increase upsells and customer retention.
VisBook's integration with Zaplox
VisBook is an all-in-one property management system that enables you to manage all aspects of your hotel in one place. To give our customers easy access to self-service guest solutions, we collaborate with several partners who offer tools for a digital guest experience. One of them is Zaplox, who provides a mobile guest app that covers every step of the guest journey.
Through the existing collaboration with Zaplox, VisBook's customers have access to a pre-integrated mobile guest journey, including mobile check-in, checkout, mobile keys, promotions and payment. Zaplox's mobile guest app is seamlessly linked to VisBook PMS, so that you can manage everything in one place. The app collects guest and booking information directly from VisBook and communicates with your payment solutions and lock system.
As the integration is already in place, the set-up process is quick, smooth and cost effective.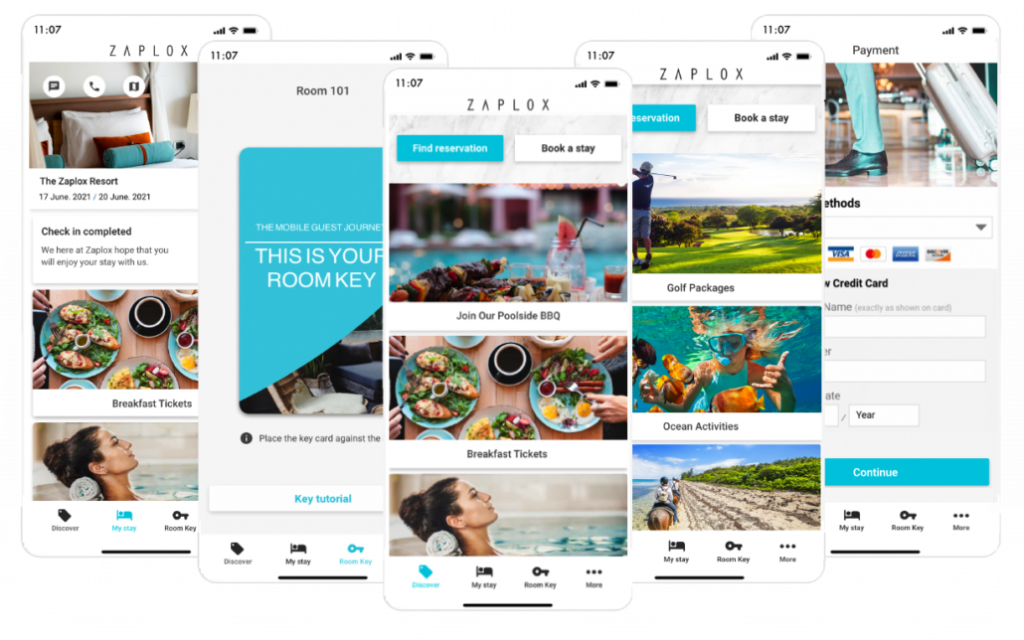 The mobile guest experience in 5 steps
So, what does a fully mobile guest journey look like? And how can you leverage the benefits to improve your hotel business? Let's look at five steps of the mobile guest journey and outline the opportunities.
 1. Pre-stay
By using a mobile guest app, hotels can connect with their guests before they arrive at the property. Using the app, you can communicate with your guests via personalised messages, reminders, push notifications and chat communications.
Keep your guests in the loop for smooth arrival: Communicate important pre-arrival messages and practical details via the app.
Upsell add-on services: With a guest app it is easy to promote services and special packages that can be added to the reservation, contributing to higher booking values while making the stay more enjoyable for your guests.
2. Arrival & Check-in
When you enable your guests to use their phone to manage check-in, check-out and unlocking their rooms, guests can control their own hotel experience and decide how much they want to interact with the hotel staff and other guests. The hotel stay becomes hassle-free and entirely on the guests' terms.

Contact-free mobile check-in: Contactless check-in has become a "must-have" during the pandemic, but mobile check-in also means guests can skip queue and start their holiday sooner. Guests will receive a mobile key in the app and can unlock the door by holding the phone against the electronic door lock.
Alert the guest when the room has been cleaned: Alert the guest via the app as soon as their room has been marked as cleaned. The guest can enjoy accessing the room a little earlier instead of waiting in the lobby.
Special requests: Guests can communicate special requests such as late checkout or food and drink orders via the app.
3. During the hotel stay
When upsells, extras and services are available in the hotel's app, guests feel empowered to make their own choices, in their own time. When not having to walk down to the reception, or speak on the phone to the hotel staff, the barrier to purchase is smaller and guests will typically spend more.
Dinner reservations and spa appointments: Guests can use the mobile app to view available amenities, and schedule reservations for dinner, spa and activities. They can also order room service directly via the app.
Spend less money on printed materials: With information about amenities, restaurants and things to do in the area available in the app, you can lower the cost of printed materials, while also reducing calls to the front desk.
Resolve issues quickly via chat: The use of chat communication is a way to maintain high quality, personalised service while at the same time minimising administration time for your hotel staff.
4. Departure day
With digital tools in place, your guests no longer need to stop at the front desk to return keys and pay. Instead, the app will remind guests when it is time to check out and make the payment.
Review room charges & mobile payment: The guest can review all charges and finalise the payment directly via the app. They will then receive their receipt directly in their email. Once checked out, the mobile key is deactivated and the room is marked as "cleaning required" in VisBook PMS.
Departure services: The guest can use the app to request for transportation to the airport or train station.
5. Post-stay
The guest experience does not end when the guest leaves your hotel. Extend your efforts with personalised post-stay communications and relevant offers to drive loyalty and future direct bookings.
Connect with guests after they leave: Leverage the app to send thank you messages, distribute guest surveys and share discounts, offers and news – making sure your hotel is top of mind for future bookings.
Direct bookings via the app: Returning guests who already have the hotel's guest app on their smartphone, can be incentivised to use the app to make their next bookings, consequently driving more direct bookings and better profit for the hotel.
Want to improve your hotel business with VisBook and Zaplox?
Book a demo with VisBook's sales team. They will show you the system and its benefits based on your needs, and how the mobile guest journey is smoothly linked to the PMS.
Already a VisBook customer? Contact our support team and they will help you get started with a mobile guest journey